Roll over image to zoom in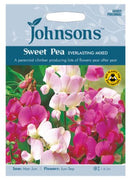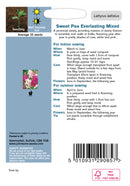 Description
A perennial variety providing masses of dainty flowers to scramble over walls or trellis, flowering year after year in pretty shades of rose, white and pink.
Sow Indoors: March - June
Sow Outdoors/Plant: April - June

Flowers/Harvest: June - September
Specifications: 

A perennial climber producing lots of flowers year after year
Height: 180 - 183 cm 
Plant Class:

Hardy Perennial (HP)

Habit: Climbing, tall 

Likes Full Sun or Partial Shade

Bee friendly - perfect for pollination

Johnsons Seeds Lathyrus latifolius - Sweet pea Everlasting Mixed
Payment & Security
Your payment information is processed securely. We do not store credit card details nor have access to your credit card information.