Roll over image to zoom in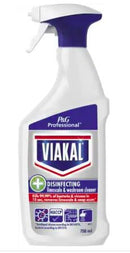 Description
Viakal professional Remover Spray is your number one against limescale. It quickly eliminates limescale and hard water marks, together with the dirt and bacteria trapped inside of them.
This spray goes to work on your bathroom and kitchen surfaces, from chrome to ceramics to tiles and shower doors, to remove imperfections and leave behind a brilliant shine. The formula not only removes the limescale, but it prevents it from returning on your surfaces.
Thanks to the anti droplet technology, water marks will be prevented from reappearing, giving you the convenience of a long lasting shine. The formula cleans toughly but gently, and it is safe to use, as it is free from chlorine, bleach and ammonia. Let yourself be surprised by Viakal's delightful scent and convenient cleaning experience!
Specifications:
Trigger spray
Size: 500ml
Eliminates limescale and hard water marks
Ideal for kitchens and bathrooms
Free from chlorine, bleach and ammonia
Payment & Security
Your payment information is processed securely. We do not store credit card details nor have access to your credit card information.