Roll over image to zoom in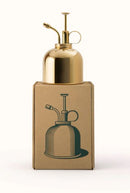 Description
The Haws Smethwick mister delivers a fine spray to your tropical houseplants. With its elegant design it is ideal for tending to your terrariums, orchids and succulents, it gently tops up their humidity while keeping their leaves dust-free.
Please note: Untreated metal products, such as this one, will develop a patina with age.  If your product starts to develop mottled surface spots, and you don't like them, a quick polish will restore its original shine. Haws recommends Peek Metal Polish which can be purchased in our Norwich store or online. 

Specifications:
Material: Brass
Size: 1/2 pint
Dimensions: 9 x 9 x 14 cm
Weight when full : 0.4 kg
2915-B
Payment & Security
Your payment information is processed securely. We do not store credit card details nor have access to your credit card information.