Roll over image to zoom in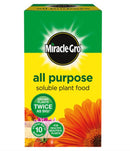 Description
This in an excellent all-rounder plant feed that optimises growth with essential nutrients and gives plants bigger foliage and more blooms. It is easy to use, simply add the food crystals to your watering can and start watering round your garden. You'll have stunning displays with simple watering can feeds every two weeks from March to September.
 Specifications:
Miracle Gro All Purpose Soluble Plant Food 500g
Size: 500g
Can be used on all round the garden
Unique mix of 10 micronutrients to ensure healthy growth
For stunning displays just feed every two weeks from March to September
Easy to apply using the Miracle-Gro® Feeder or with a watering can
UK NPK 24-8-16 with trace elements
Payment & Security
Your payment information is processed securely. We do not store credit card details nor have access to your credit card information.