Roll over image to zoom in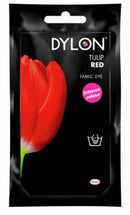 Description
Dylon Hand Dye Tulip Red for fabrics is perfectly suited for smaller items like shorts,
vests or socks and delicates you would rather not put in the washing machine such as wools and silks. It is ideal for craft activities such as tie-dye and batik.
Specifications:
Colour: Tulip Red
Fabric dye for use by hand with permanent results
Suitable for use on natural fabrics: cotton, linen and viscose, wool and silk
Lighter shades will be achieved on polyester/cotton and polyester/viscose mixes
Not suitable for use on wool silk, synthetic fibres (e.g. polyester, acrylic, nylon) and fabrics with special finishes (e.g. waterproofing or fire resistant)
Colour mixing rules apply (e.g. red dye on blue fabric will give purple) 
To remove the colour first use DYLON Pre-Dye
One pack will dye up to 250g of fabric (e.g. a shirt) to the full shade on the pack or larger amounts to lighter shades.
Size: 50g
Payment & Security
Your payment information is processed securely. We do not store credit card details nor have access to your credit card information.