Roll over image to zoom in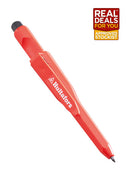 Description
The Hultafors Dry-Marker has a grip-friendly and ergonomic design. Supplied in a holster with a built-in sharpener for clear markings. It's easy to remove from the holster. 
The pen can be used whilst in the holster or removed completely depending on your preference. There is a hole in the bottom of the holster, this allows dirt and moisture to fall away from the pen, providing a longer life. The lead is easy to change and refills are available.
Specifications:
Real Deals For You XMS23Marker
Built in sharpener
Lead is easy to change 
Can be used in or out of the holster (included)
Payment & Security
Your payment information is processed securely. We do not store credit card details nor have access to your credit card information.