Roll over image to zoom in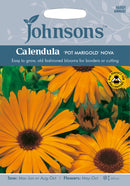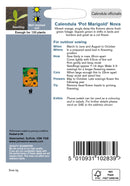 Description
Vibrant orange, singly daisy-like flowers above fresh green foliage. Superb grown in drifts, in beds and borders and as a cut flower.
Sow Outdoors/Plant: March - June

Flowers/Harvest: May - October
Easy to grow, old fashioned blooms
Height: 60 cm
Plant Class:

Hardy Annual (HA)

Habit:

Medium, upright

Likes full sun

Perfect for cutting

Bee Friendly - perfect for pollination

Johnsons 121070 Calendula officinalis - Calendula 'Pot Marigold' Nova
Payment & Security
Your payment information is processed securely. We do not store credit card details nor have access to your credit card information.