Roll over image to zoom in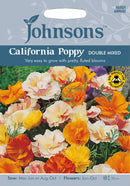 Description
Easy to grow. Stunning when sown in drifts with beautiful, mainly double, fluted flowers that reach up over fine, lacy foliage. Excellent in annual borders and in containers.
Sow Outdoors/Plant: March - June and August - October

Flowers/Harvest: June - October
Very easy to grow, with pretty fluted blooms
Height: 30 cm
Plant Class:

Hardy Annual (HA) 

Habit: Medium, upright

Perfect for containers

Like the full sun / drought 

tolerant

Bee friendly - Perfect for pollination

Johnsons Seeds Eschscholzia californica - California Poppy Double Mixed
Payment & Security
Your payment information is processed securely. We do not store credit card details nor have access to your credit card information.