Roll over image to zoom in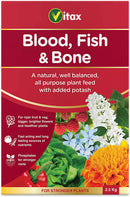 Description
This natural general purpose fertiliser by Vitax is a popular favourite and can be used throughout the growing season. The fertiliser contains nitrogen which encourages strong growth and foliage; slow releasing phosphate for healthy root development and potash to increase the ripening of fruit and vegetables and more vibrant flower colour.
 Specifications:
Size: 1.25KG
Blood, Fish & Bone
Can be used throughout the growing season
Encourages strong health growth and root development
Ripens fruit and vegetables
Brighter flowers
Can be added to sowing or planting
6FB126
NOTE: Our Norwich Store stocks the following sizes: 2.5KG, 5KG, 10KG & 20KG
Payment & Security
Your payment information is processed securely. We do not store credit card details nor have access to your credit card information.